New Dedicated Servers change what's possible
No exaggeration! New bare metal has multiplied top level performance by 10, and lowered the entry-level cost.
Compare Dedicated Servers
Big changes have come to our line-up of Dedicated Servers. We have:
Upgraded our DED2 package with the incredibly powerful AMD Ryzen 9 7900 processor (CPU), for only $480/mo.
Shifted the Intel E3-1230 out of the DED2 package and into DED1, and dropped its price from $249 to $149/mo.
Stopped offering the older Intel i7-960 (which was $199/mo).
The performance on offer from the new DED2 package is a genuine step change. Benchmarking shows that the top end of the line-up offers much, much more than it used to. At the same time the entry-level DED1 package has gotten both better and cheaper.
In terms of bang for buck, this machine changes the maths around web services as well. The bare metal option is suddenly a different, much more attractive, beast.
CPU performance: Remarkable numbers
There are countless ways to benchmark processors, but if you want independent results that you can easily compare, then PassMark Software's website CPUbenchmark.net is a very good place to start.
CPUbenchmark breaks down processor performance in multiple ways (making it find prime numbers and compress data, for example), then summarises a processor's overall performance in a single score. As they put it, their system "conducts eight different tests and then averages the results together to determine the CPU Mark rating for a system."
Until this week, Intel's Xeon E3-1230 was the highest-performing CPU we offered in a Dedicated Server. To be fair it's starting to show its age in some ways, but it's still a good enough option to keep in our refreshed line-up. This processor scores 5,088.
That score may sound big, but the AMD Ryzen 9 7900 that you find in our new DED2 server puts it in perspective with a CPU Mark of 49,331.
In short, the performance score of our DED2 server has gone up 10x (with a tiny bit of rounding). The DED1 package's CPU Mark has increased by 50% even as its price drops by 40%.
New CPU Marks: There's no comparison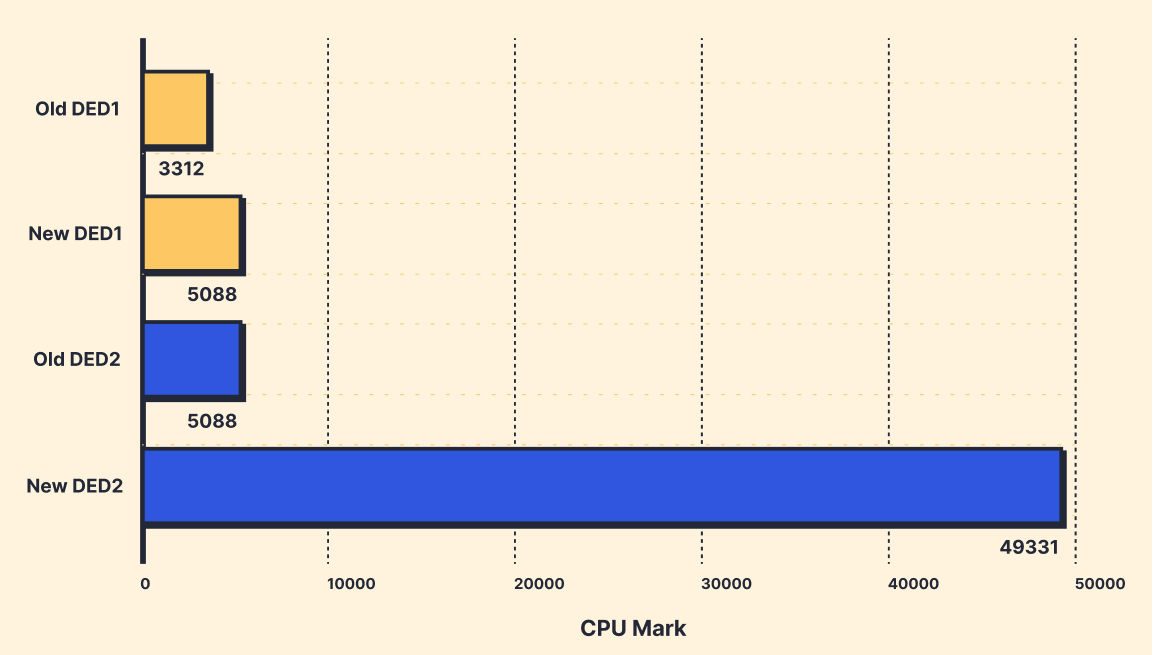 ---
Single thread performance has more than doubled
Single thread performance is particularly important for running applications like PHP. It's one of the tests included in the overall figures above, and it's also worth breaking out separately. Our DED2 package has gone from completing 1,656 MOps/sec (million operations per second) to 4,207 million.
That's a huge improvement, with performance lifting more than 2.5 times over.
Changing what's possible
The Ryzen-powered DED2 unlocks a lot of possibilities. It's a very reasonably priced option for companies that might have thought before that a single machine wouldn't be enough.
In terms of bang for buck, this machine changes the maths around web services as well. Especially when you're in a growth phase or just getting started, it's very tempting to keep monthly costs down and access scalability through cloud services rather than full machines. With this new DED2 option, the bare metal option is suddenly a different, much more attractive, beast.
Given the simplicity that bare metal offers over cloud services, and the certainty that you get with known resources as a fixed price, Dedicated Servers are finding favour with tech teams that want to avoid hassles and bill shock.
You can order your Dedicated Server right now. Or, since every Dedicated Server is built specially to order, you are always welcome to talk with us about exactly what you want and how you can get it.
---
Photo: 0.7 RPM by Digital Buggu on Pexels