Refer your friends to MyHost and save on your hosting bill!
Kendra
Refer a friend to MyHost and save money on your hosting bill.
UPDATE: Since the Refer A Friend we've made a few small changes to the way it works. For the latest, see Earn account credits just by referring friends to MyHost!
---
At MyHost we are very grateful and lucky to have awesome customers who love what we do. We often hear about you recommending us to your friends so we wanted a way to say thank you.
Now when you refer a friend over to MyHost you can receive $20 account credit when they pay their first invoice.
All new customers that you refer can still use any other new customer discount and you will still receive the full referral credit amount. With this new programme it really is a win, win!
How to start earning credit
It's super easy to start earning credit. Everything you need is in your MyHost control panel. When you log into your control panel you will see a new "Refer a friend" tile on your home page. From here you can view, copy and share your unique code.
Find your unique referral code straight from your homepage.
Share your unique link with those who you are referring over to MyHost. When they sign up via the link you will be credited as the referer. Once your referral pays their first invoice you will receive $20 credit to your account.
In your control panel you can view how many people have clicked your referral link, how many referrals have signed up and your total credit earned.
Track how your link is performing from the Refer a Friend tile.
Once you start earning you can keep earning! There is no limit on how many people you can refer, as well as no cap on how much credit you can earn.
Your credit will be applied to your account after your referred friend pays their first bill.
Easily keep track of how your referral links are performing with clicks, signups and earned tracking from the Refer a Friend tile.
Let's breakdown what these mean:
Clicks allow you to see the number of times someone has come to the MyHost site via your unique link.
Signups show how many referrals you have who completed the sign up process and are now MyHost customers.
Earned allows you to see how much credit you have accumulated after they have paid their first bill.
---
Related article: Comparing our Refer-a-Friend and Affiliate Marketing programs
---
Ways you can share
On social media
Share your code easily across your social media platforms. Click the link at the bottom of the tile to quickly share on Twitter or Facebook. You can use the message we have created for you or edit your post for a more personal message.
Share your link via social media.
Directly copy your unique link
You can copy your unique code and share it with your friends via a direct link. For extra exposure, add it to your email signature or website so everyone can see to earn more credits. The more people you refer, the more credit you earn.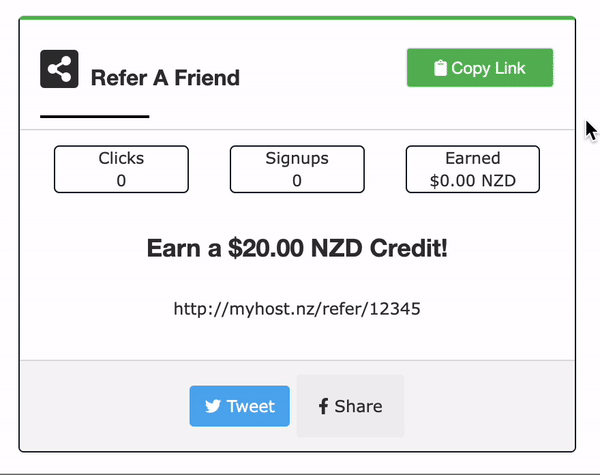 Use the copy link button to directly share you unique link with friends.
How to redeem your credit
We've taken care of the billing for you. If you have credit available on your account, your credit will automatically be applied to your bill. Any remaining credit will roll over to your next bill.
Get sharing and start earning now
At MyHost we are proud to work with the customers we do. We work hard to ensure reliable, fast and secure hosting. If you think we are doing a great job and know of people who can benefit from joining the MyHost platform, share your code and start saving on your bill.