Comparing our Refer-a-Friend and Affiliate Marketing programs
Rob
Be rewarded for introducing new customers to MyHost! Our Affiliate Program earns cash for serious marketers, while Refer-a-Friend lets you easily claim account credits.
Become an Affiliate today
This year we refurbished our Affiliate Program and we launched Refer A Friend. Both of these programs are free to join, and both of them reward you for sending new customers our way. Today, we'll give you a clear understanding of how they both work so that you can choose the best fit for you.
The programs have different requirements and offer different compensation levels. Read on for a full breakdown, including how they work, their benefits, and who they are best for.
Affiliate Program
If you're serious about using your marketing skills to promote MyHost, and you're looking to earn cash, our Affiliate Program is designed for you.
As an affiliate, you'll receive a commission as high as 15% for 3 years for every new customer you refer to us. We're proud to say that our Affiliate Program offers some of the highest commissions in the industry. Successful affiliates commit for the long term: commissions might start small, but they build up over time
Plus, we offer marketing support and resources to help you succeed.
Here's a quick breakdown of how it works:
Who: Anyone can join - there's no need for you to be a MyHost customer.
Credit type: Earn money (NZD) that you can have paid out to you.
Credit amount: For each customer you bring in, you earn a percentage of their payments to us. Rates vary by product from 5-15%, and every commission recurs for up to three years. The more people you sign up, the larger your monthly commissions get.
Products: Our most popular hosting products and servers are included in the Affiliate Program, but not domains.
How it works
You have a unique affiliate link that leads to our homepage. This link sets a three-month cookie on the user's device. If they sign up at any time while the cookie is active, you are rewarded as the affiliate who brought them to us. This means you can still earn a commission if people visit us again, some time after you initially referred them.
For each qualifying new customer your bring into MyHost, your commissions recur every time they pay an invoice for up to 36 months.
---
Refer A Friend program
The Refer A Friend program is a great way to earn an easy reward for sending someone our way. It's very easy to participate - all you need is a MyHost account.
Here's a quick overview of how it works:
Who: You need to be a current MyHost customer, and the friend you refer needs to be new to MyHost.
Credit type: Earn account credit (no cash equivalent).
Credit amount: $20 credit per referral. Each credit is a one-off.
Products: So long as the referred customer is new to MyHost and signs up online for any web hosting, server, or new domain, the referral qualifies. There is no credit paid if the new customer's only product is a transferred domain without renewal.
How it works
You have a unique referral link, which you can get by logging in to your account. Share that link with people - friends, family, clients, anyone. This link sets a 90-day cookie on the user's device. If they sign up while that cookie is still active, you'll earn an account credit.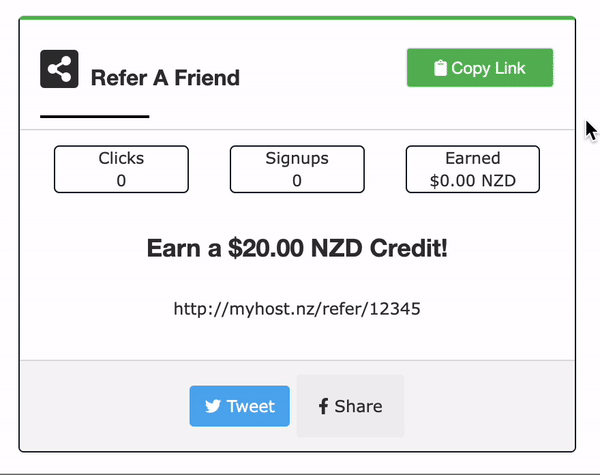 What about the payouts?
Both programs offer great rewards but differ in how those rewards are paid out. Below is an example of each program's payout structure.
Product
Refer A Friend
Affiliate
(over 12 months)
Affiliate
(over 36 months)
Domains
$20 account credit
$0
$0
Small Web Hosting package
$20 account credit
$10.74
$32.22
Website Builder
$20 account credit
$18
$54
Large Web Hosting package
$20 account credit
$33.54
$100.62
Dedicated Server (DED2)
$20 account credit
$149.40
$448.20
So, what's right for you?
Both programs are free to get involved with (Refer A Friend requires you to be a MyHost customer), making it easy to start earning rewards. Our Affiliate Program is the way to go if you have time to invest in your efforts and you want to make some cash. But if all you want is an easy way to save on your hosting bill, the Refer-a-friend program is a great option.